Hey guys!
Just a few days ago I mentioned that I love my bad boys in YA lit, no matter if they are reapers, demons, Death spawns, fallen angels or whatever. Well, in the same spirit, I'm here to support yet another hottie in the YA Crush Tourney today - I know, I know, I just couldn't help myself.
So, you're probably familiar with the
YA Crush Tournament
hosted by the girls at the
YA Sisterhood
blog by now. (If not, check out
this post for the deets
). Well, in today's match, we have
Finnick
(The Hunger Games) vs.
Kaiden
(
Sweet Evil by Wendy Higgins
). I know, right? Yikes!
The Hunger Games is a crazy popular series and it's been around for years now, so Kaiden is kind of the underdog in this match. But! No matter! I still like him better. Yes, he's uber hot, but there's so much more to his character than that. I'm not going the get into details here, just go and read
his advocate' s post
, it's super awesome - and if she can't convince you to vote for him, with all those quotes and swoon-worthy pics, pff... I don't know who can. Oh, WAIT.
Wendy Higgins
will give us a scene told from Kaiden's POV if he wins. ;)
*Warning: there might me drooling/melting and/or faining involved. Just sayin';)
*clears throat to get your attention back at the task at hand*
My point is - Go VOTE Kaiden right now. He's worth it, I promise. And if you haven't read the book - DO IT. NOW.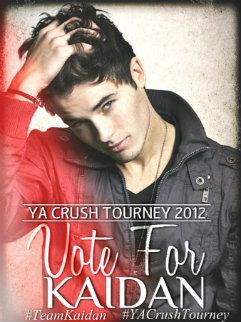 P.S. If you vote for Kaiden, there's a giveaway at the
official blog
where you can win a copy of Sweet Evil and signed bookmarks. ;)
With that being said,
Have a great Friday the 13th!:D